Keynote I

Assoc. Prof. Ts. Dr. Wan Zuha Wan Hasan

Head of Center for Biomedical Imaging and Sensor
Department of Electrical and Electronic Engineering
Faculty of Engineering
Universiti Putra Malaysia (UPM), Malaysia
Biography
Wan Zuha Wan Hasan received the degree in Electrical and Electronic Engineering from Universiti Putra Malaysia in 1997. He received the Ph.D. degree in Microelectronic Engineering from the Universiti Kebangsaan Malaysia in 2010. Currently, he is an associate professor at Department of Electrical and Electronic Engineering, Universiti Putra Malaysia and Deputy Dean (Undergraduate Studies), Faculty of Engineering, Universiti Putra Malaysia. He was a postdoctoral research fellow at University of Southampton from December 2011 to November 2012. He is an active leader of Robotic UPM for robotic innovations and competitions. He is a Technical Editor for various International Journals as well as a reviewer of various submitted journal and conference proceeding publication. He has been a keynote speaker and Session Chair of national and international. His research interests include AI, Robotic & AutomationSensor Technology for Medical Application and. Currently, his research projects more on Home Service Robot and Autonomous Robot, Foot Plantar Pressure Sensor for Diabetic Patient, Soft Robotic Hand Glove,. Associate Professor Dr Wan Zuha is also involved in Solar technology and Energy system.
Title: SOFT ROBOTIC HAND GLOVE FOR REHABILITATION
Abstract
About 15% of the world population have some form of disabilities which suffers for daily activities due to cerebral vascular accident (CVA) or stroke. Enhancing the wearable lightweight robotic hand glove that able to enhance rehabilitation process as well as the mechanism of secured grasping objects is essential to reduce this suffer. Since, commercial robotic gloves only used for normal grasping mechanism which no feedback response to assist the paralysed hands. Thus, introducing a wearable robotic hand gloves based on pressure sensors or sEMG for rehabilitation system is required for nowadays quality of life. These new approaches provide a real time self-calibration and muscle activities methods of wearable robotic hand glove in order to improve the efficiency of measurement. Results shown that high accuracies measurement which lead to reduce the cost and the size of such systems and make them more affordable and practical both grasping mechanisms and rehabilitation activities.
Keynote II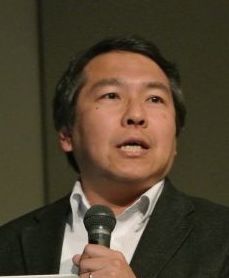 Prof. Dr. Hiroaki Takada
Center for Embedded Computing Systems,
Nagoya University, Japan
Title: Changes in Automotive Embedded Systems under the CASE

Abstract
After explaining the basics of automotive embedded systems briefly, this talk explains their changes that are happening recently. As automobiles undergo a revolutionary change with the four keywords of CASE (connected, autonomous, shared & services, and electric), major changes are also occurring in automotive embedded systems. In addition to changes in elemental technologies, such as processor, OS, and network, system architecture is also changing. Also explained is the situation where the controlled object is expanding from one vehicle to road traffic system, and further to a city and society as a whole.